One of the brilliant aspects of living in our day and age is that new, cutting-edge technologies aren't reserved for only the super-rich or mega-powerful.
They're available to you.
This is easy to see in the consumption of consumer goods: Laptops, cell phones, cars, smart watches... Access to these cutting-edge technologies are widely available to the general public.
The same goes for civil construction technologies. Contrary to popular belief, there are little to no barriers preventing a small, locally owned and operated oilfield services company from leveraging the same technologies as the energy companies they serve.
In this blog post, we share how the world's largest equipment rental company leveraged advancements in geosynthetics to open a new business unit on remote land. The best part? Your company can reap these same benefits, no matter how big (or small) your project may be.
About United Rentals
Founded in 1997, United Rentals is the largest equipment rental company in the world. With 1,197 rental locations in the United States, Canada, and Europe, United Rentals offers approximately 3,800 classes of equipment for rent to construction and industrial companies, manufacturers, utilities, municipalities, homeowners, government entities, and other customers.
In recent years, United Rentals has focused on improving the profitability of their core equipment rental business with emphasis on customer segmentation, customer service differentiation, rate management, fleet management, and operational efficiency.
Project Overview
In 2017, United Rentals entered into a partnership with Paradox to design a site preparation solution to serve as the foundation for United Rentals' new business unit at Mildred Lake, Alberta (approximately 40 kilometers north of Fort McMurray, in Northern Alberta's heavy oilsands region).
To access this remote location, personnel and equipment would have to travel great distances, and products and services in this geographic area are typically quite costly. As such, the success of this project would rely heavily on sound logistics, detailed planning, and accurate budgeting — in addition to exceptional teamwork.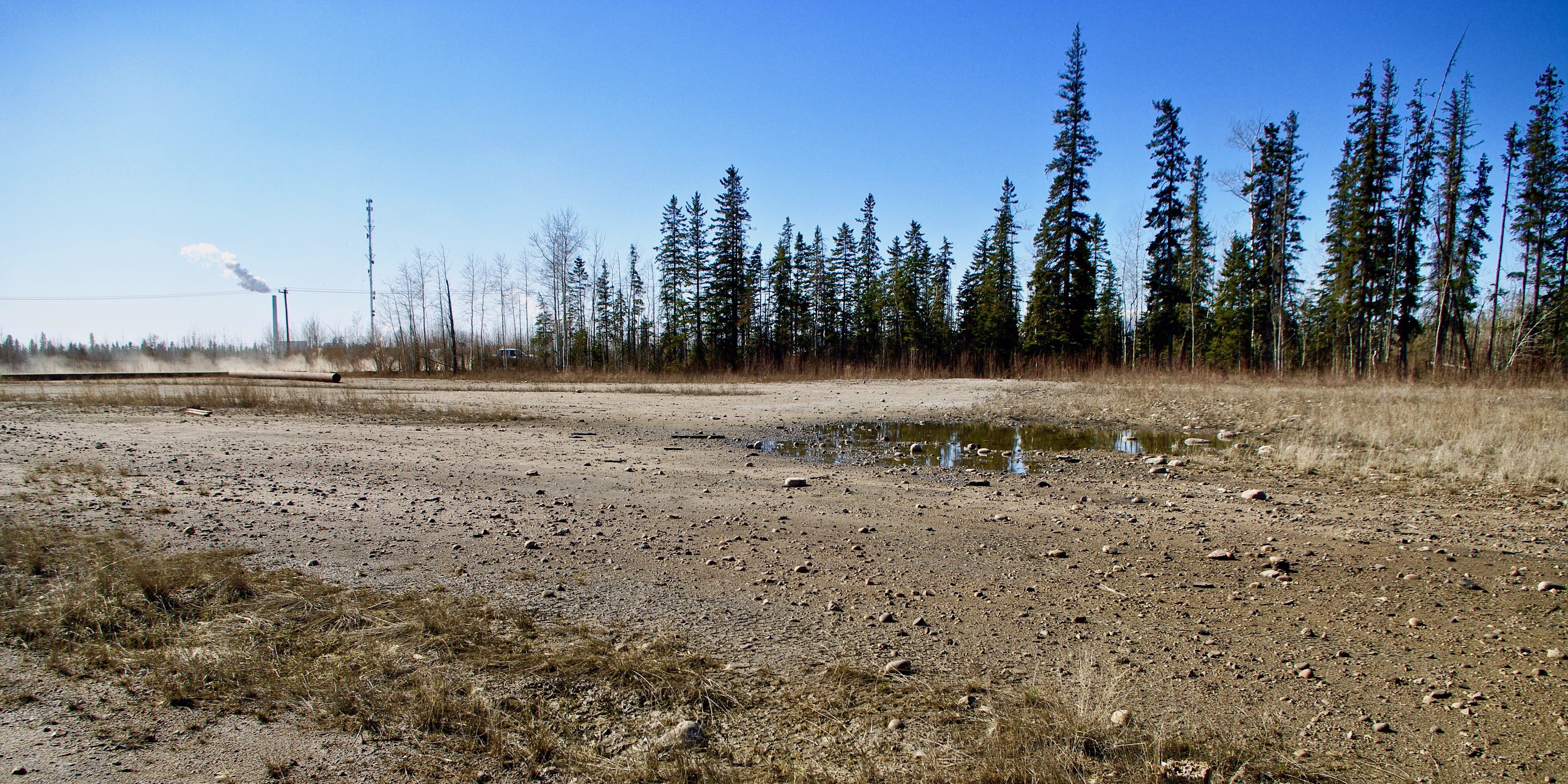 Challenges
1. Narrow Timeframe
Once the project's design work was complete, winter was fast approaching. Our operations team would have four to six weeks to prepare the location, install the geocells, and clean up the site.
2. Extreme Pressure
This land would support a massive rental fleet size and constant influx and outflow of heavy equipment traffic, meaning the property needed to be developed to withstand a serious beating. Forklifts, man lifts, zoom booms, large generators, and heavy truck traffic are just a few examples of the heavy equipment that would be used in this yard.
3. Lease Restrictions
Many of these yards are leased and, therefore, often have restrictions in place prohibiting the construction of permanent structures on the land. Additionally, in many cases, the land must be restored to its original state when a company vacates the property. This means that materials such as asphalt and concrete, which are expensive to remediate and dispose of, were not viable options for setting up on site.
4. Extreme Temperatures
In Northern Alberta, extreme temperature swings are common and must be taken into consideration during planning. During cold seasons, drastic thaw/ freeze cycles can wreak havoc on structures such as concrete pads and asphalt. Alternatively, site pads require subbase stabilization to survive summer rains and avoid heavy rutting.
Our Solution
Paradox — along with our partner engineering firm, Stratum Logics — provided an initial design proposal for the six-acre site. During review, it became apparent that adjustments would be needed to accommodate new cost-saving obligations while still meeting project timeframe, budget, and infrastructure requirements.
Ultimately, three options were presented to United Rentals, who chose to move forward with the design that focused on reinforcing the highest load bearing areas of the location while still meeting budgetary expectations.
1. Last-minute Fencing
Once the pad was stabilized, United Rentals asked if we could install a perimeter fence to increase site security. Paradox presented a customized plan for the fence installation, and the project was quickly approved.
2. Setting Up Shop
Curiosity runs strong in the Paradox team. Armed with the knowledge that United Rentals planned on erecting "Coverall"-type buildings on this site, we inquired about their plans for building a floor suitable for supporting heavy loads while providing their mechanics with a safe work environment.
One conversation lead to another, and a cost-effective solution utilizing steel-framed rig mats was quickly developed and presented to United Rentals, once again fitting their budget and exceeding their expectations.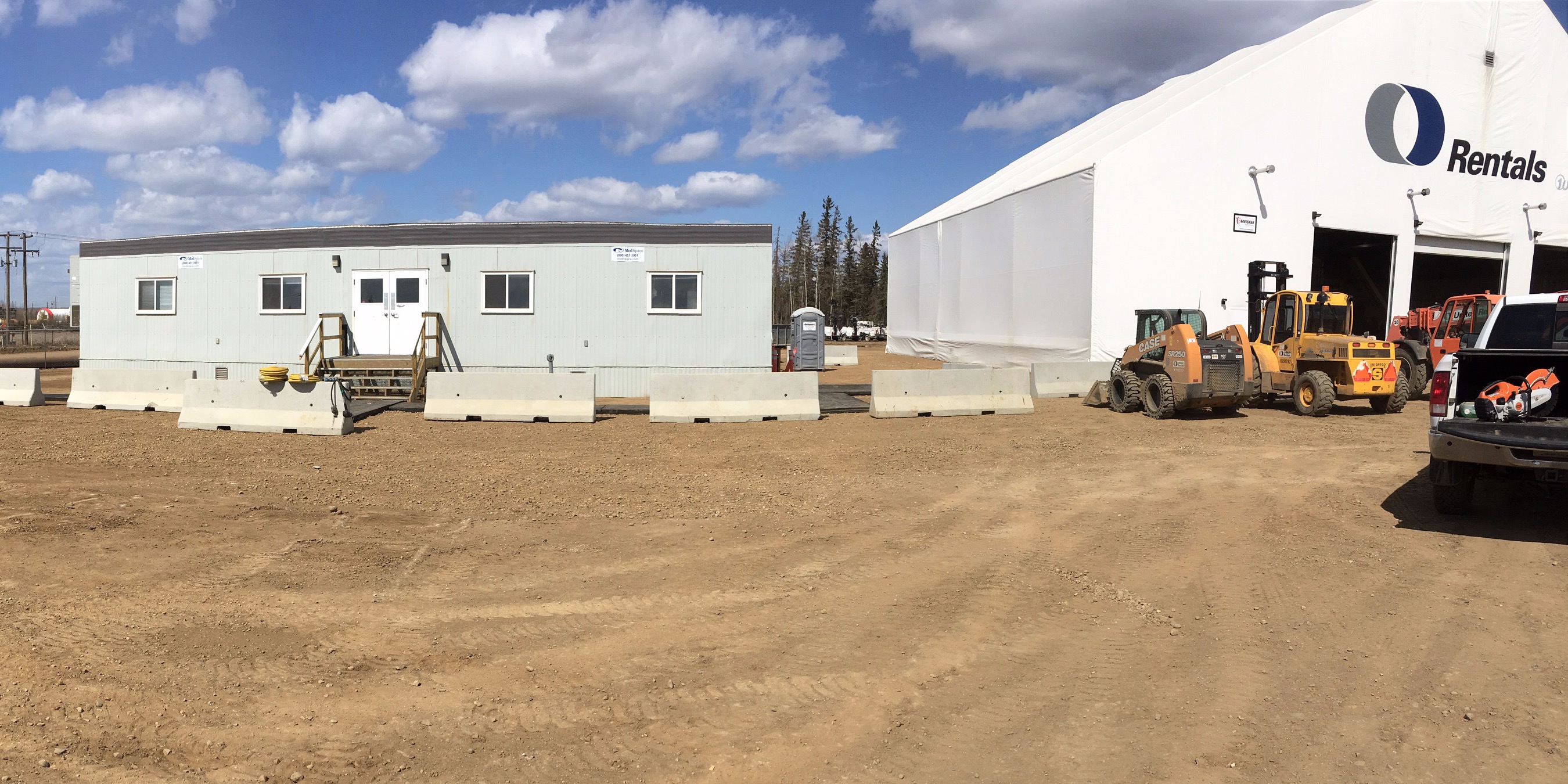 The shop that would later be assembled measured 100' x 80', with an accompanying 40' x 60' wash bay. To accommodate these large structures, the design called for 8' x 40' steel-framed mats to be used as flooring in both buildings and tabs were used to hold those mats in place.
Benefits
1. Reinforcing the Ground with Tough Cell® Geocells
A Tough Cell solution was the most suitable technology for reinforcing the ground on this site. Tough Cell met all requirements specified by United Rentals, including (but not limited to):
It creates the "Beam Effect"(transferring vertical pressure dispersing the load energy from vertical to horizontal, effectively eliminating all but heavy rutting).
It can be used in temperatures ranging from +60°C to –60°C.
It can easily be reclaimed.
It promotes the use of local infill materials.
2. Securing Steel-framed Mats
Rather than have a welder weld down hundreds of feet, Paradox used tabs to secure the mats and prevent shifting. The benefits of this alternative were twofold:
It reduced project costs.
It allowed for the simple removal of a mat should they ever require repairs or replacement.

Results
Within weeks of project completion, we checked in at the United Rentals site, and the work was holding up brilliantly. However, United Rentals was now in search of an access solution to serve as a temporary sidewalks for site personnel.
Next thing you know, we were hauling in and installing rubber walkways and entrance matting on site.
This was an important contribution to United Rentals' workplace safety, effectively eliminating tripping hazards and mitigating the risk of slips, trips, and falls.
Their site is now much more user-friendly, with a flat surface for snow removal in the winter and a sturdy sidewalk that decreases mud tracking into the office in the summer.
The Paradox Advantage
When you work with Paradox, you get more than just access to the places your business needs to be. You get peace of mind knowing that any obstacle along the way will be overcome with stable, dependable solutions to keep your project moving forward.
Get in touch today to discuss the benefits of using Tough Cell geocells on your next project.