Acquiring access mats for a project is an expensive endeavour, so making sure you get high-quality matting the first time around is important. To do so, you need to know what you're looking for.
That's what we're here to talk about today.
No matter what species of wood an access mat is made of, there are six key characteristics you should examine to ensure their integrity:
1. Wood Characteristics
Green wood — that is, wood that's just been cut from the tree and which has therefore never been dried — is perfect for access mats because it will maintain its shape and integrity in the elements.
Conversely, kiln-dried wood — which can often make for good building material in houses — is terrible for access mats because of how brittle it is. If your access mats are made of dried wood, you can expect those mats to expand and change shape when they inevitably get wet from exposure to elements.
Finally, it's important to know what area the wood used in your access mats is from, as this can significantly impact the wood's quality. For example, a particular species of wood grown near the coast will have different characteristics compared to the same species grown in an interior region.
2. Board Quality
Take a look at the top layer of the matting. Are there visible signs of wane, bark, or large splits? These characteristics are often acceptable when present on the bottom and/or middle layers of wooden access mats, but can actually become tripping hazards when present on the top layer.
3. Board Placement and Design
Access mats are meant to make otherwise inaccessible areas safely accessible. Paying attention to the placement of the boards in your mats can help you ensure your mats continue to support your workers, rather than trip them.
Board Spacing
All the boards in an access mat should be equally spaced out. Uneven spacing between boards (especially large gaps) can easily become tripping hazards.
Overhang
The edges of the planks of wood on all three layers of each mat must line up on every side of the mat so that when all your mats are pushed together, they form a flush, even surface.
Finger Length and Positioning
Fingers should be uniform in length and positioned in the same spot on all mats to ensure they fit in the pockets of other mats.
Backbone
An access mat's backbone (i.e. the middle layer) is the weakest part of the mat.
Sometimes, to make cheaper mats, suppliers might use short or partial boards in the centre of the mat. Beware, as this weakens the integrity of the mats since it's not being supported all the way through.
Another trick used by some suppliers is to put as few as 18 boards in the middle layer to make the mats cheaper and lighter. For optimal longevity, your access mats should have a backbone made of 22 boards (maximum), although it's common to see 21 boards in premium mats (aka "triple seven"). For every board removed, an access mat can lose as much as 10% of its integrity.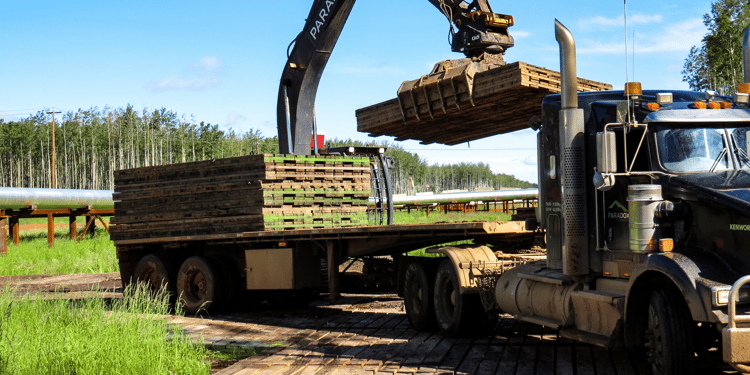 4. Bolt Pattern
Bolt pattern is very important as it can determine whether or not your mat will fall apart or "diamond". The term "diamonding" is used to describe how an access mat changes shape when grabbed with equipment because the boards don't stay together as they should. When this happens, you can kiss the integrity of your access mat goodbye.
Bolt patterns vary between suppliers. Mats may be made with bolt patterns comprising as few as 96 bolts and as many as 202 bolts.
A quality access mat should have a bolt pattern of no less than 172 bolts.
5. Bolt Depth
A quality access mat will have bolts that are flush with the surface of each mat for a couple reasons.
First, if bolts are sticking out from even just one of your mats, it can easily cause damage to your other mats when stacked. This will lower the expected life span of your access mats dramatically — an expense that can easily be avoided.
Another reason flush bolts are important is especially evident during wintertime. If bolts are sticking out of your mats, a snow plow clearing your mats can easily catch the bolts and pop them out or bend them, thus damaging your mats.
There are a number of factors that could cause bolts to stick out of your mats. Here's what to look out for:
Countersink Depth
A key facet of a quality access is mat meticulous countersinking. You definitely want your mats to have countersunk bolts to keep them from become tripping hazards, but beware of mats built with too much countersink.
Too much countersink weakens the bottom board. This can be particularly troublesome during winter months when cold weather causes mats to freeze to the ground because when it comes time for removal, the weak bottom boards are susceptible to snapping off the mat.
A sturdy access mats should have bolts that are countersunk just deep enough to keep the nut from sticking out (in most cases, approximately ½" is ideal).
Drill Direction
A good access mat will have drill holes that are drilled perpendicular to the mat.
Tightening
A strong, quality access mat will have sufficiently tight bolts. Not only can loose bolts prevent the bolts from being flush with the surface of your mats; they can also increase the likelihood of diamonding.
Bolt Length
This one is pretty straightforward. If your bolts are too short, they won't be able to hold all your mats together without drilling too deep; if they're too long, the tops will stick out of your mats. Making sure the bolts being used are the right lengths is key to ensuring the integrity of your mats.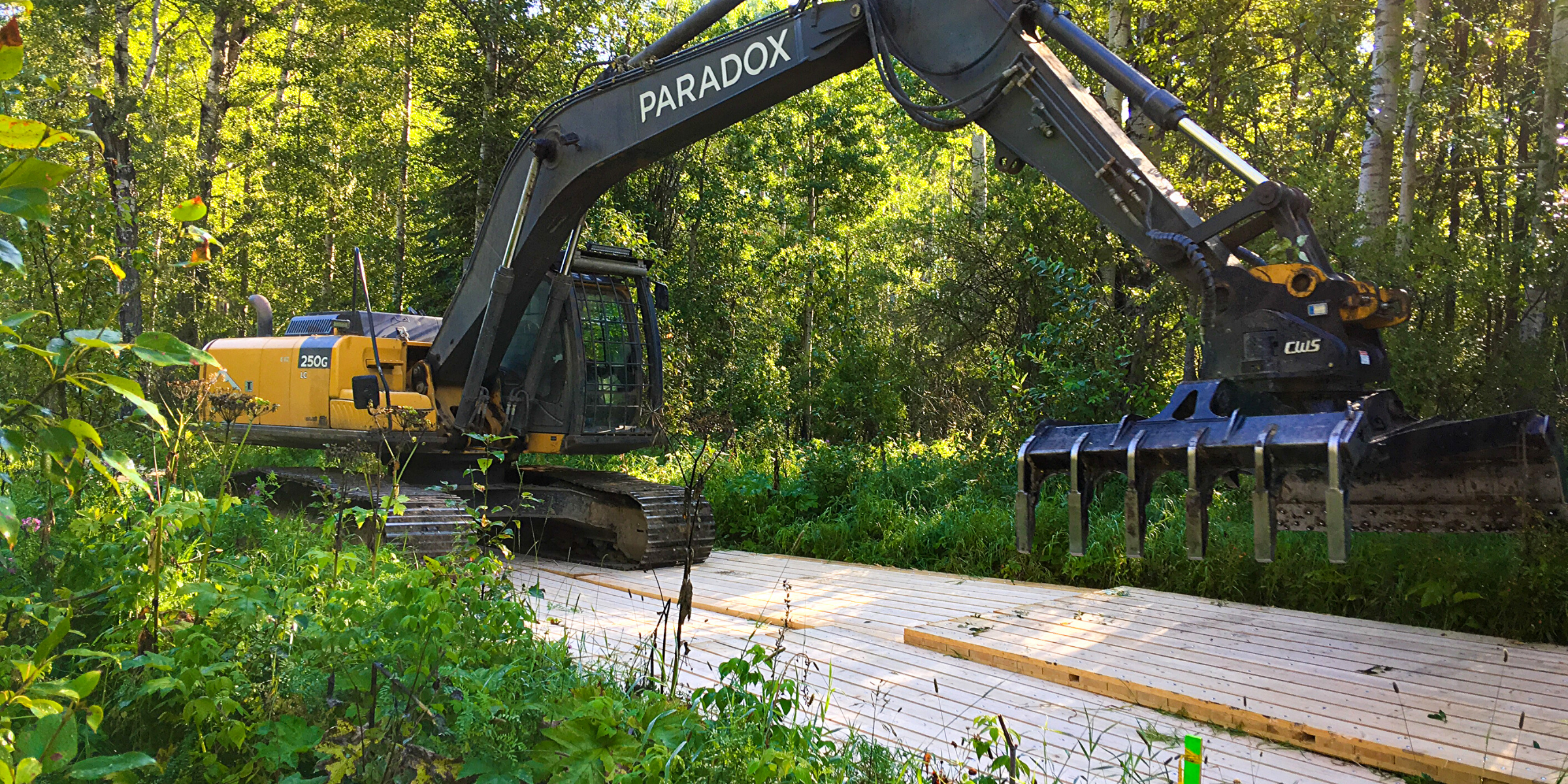 6. Cross-Laminated Timber (CLT)
Access mats that are made of cross-laminated timber (CLT) use glue instead of bolts to hold the boards together. This makes the mats less flexible than bolted mats, which can be problematic if you're on uneven ground because it can cause the mats to rock. Bolted mats are more flexible and can therefore follow the landscape.
---
If you need temporary access for your next project, get in touch with our matting specialists today to discover how we can help get you where you need to be.